GAS TEC offers a full plumbing service from fixing a dripping tap to full bathroom installation. A lot of the work we do is planned and reactive maintenance in rented accommodation for landlords. We can give a bathroom a complete overhaul right down to repainting and silicone replacement if needed. We can also carry out replacement and repair work on often overlooked things like guttering and pipe insulation. This removes the need for landlords to organise and pay out for several tradesmen to visit the property, and insures that the property remains vacant for the least amount of time.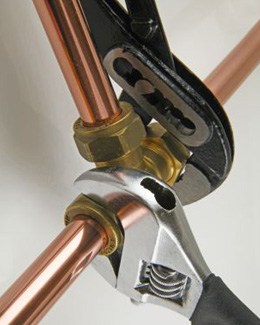 As apprenticeship served City and Guilds qualified plumbers, plumbing is our bread and butter. It is a common misconception that gas engineers all started out as plumbers, or that they are capable of completing plumbing work at all. It would be fair to say at least 50% of gas engineers working today have no specific plumbing qualifications as such, and probably the same amount again have never installed a bathroom. This is mainly due to so many "quick fix" qualifications that are out there now. The time served apprenticeship seems to be a thing of the past. This is something to bear in mind. Gas engineers and plumbers are totally different jobs.
Lime Scale

Lime scale is a big problem in and around Dorset. It is becoming more so due to the fact that combi boilers are becoming more common and inside combi boilers all the workings are smaller. Imagine what you kettle looks like after a few months without de scaling it. The build up inside the smaller pipework and heat exchanger plates cause havoc inside a combi boiler. All combi boilers should have a lime scale reducer of some sort fitted. On new installations if one isn't fitted it may void your manufacturer's warranty.

Lime scale also causes lots of problems on older conventional systems, with hot water cylinders which are normally found in airing cupboards. Lime scale builds up inside these over the years which will increase your gas bills. This is due to the fact that you are effectively paying to heat up lime scale inside your hot water cylinder as well as your hot water. Replacing an older hot water cylinder for a newer, more efficient one is a pretty straight forward job which can be done in a day.

Banging and Noisy Pipework

If you can hear noises or banging in the pipes inside your property, likely causes are:

Faulty Float operated valves can generate noise called water hammer.
Pipes that are not clipped correctly, they may move and hit against walls and flooring, creating noise.
Air is trapped at the stop tap, this can cause the pipes to vibrate and cause a hammering/banging sound.
Loose fitting washers (jumpers) in stop taps.

These are all pretty straight forward repair jobs that we can complete in a few hours.

Cold Water Temperature

So far as is reasonably practical the temperature of water within cold water pipes should not be warmed above 25ºC and ideally not above 20ºC. Adequate measures should be taken to ensure that this temperature is not exceeded.